Linking up again with Becky for the show & tell Mondays. This time we are talking high school.
1. Tell us what kind of student you were in high school (popular, nerd, sport obsessed, choir, etc)
I don't really think I fit into any of these. I like to think I was nice to everyone and friends with everyone but lets me honest, there were some real pricks in high school (and have I mentioned I love that all the people who thought they were awesome in high school are just douchebags now working at the local bars in good ol' Battle Creek). I was nice to everyone, for the most part. I didn't have a type of clique. I played sports, I danced, I was in band, I was in choir....I had friends from all over the place. I didn't peak in high school though, thank god. I am much more awesome now. haha :)
2. Share with us some high school pictures. We know you have them somewhere.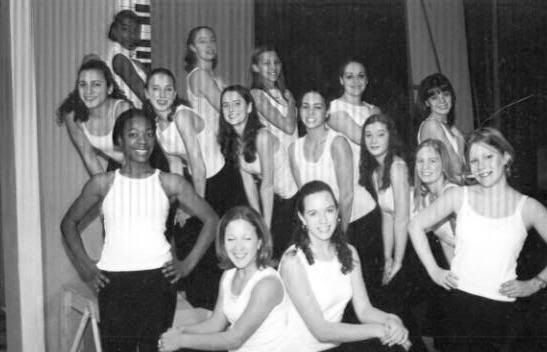 There I am in the front row sitting on the right. Captain of Chorus line my senior year. Chorus line is dance by the way, not singing. Like the Radio City Rockettes. I'm too lazy to find more pics.
3. Tell us about your school. Private? Public? How many in graduating class? Mascots? School colors?
Battle Creek Central High School
This is what it looked like when I went there...
The gym was located down the road. Past the football field.
This is what it looks like now...
Huge.
I don't even know how many we had in our starting graduating class. Probably around 600. How many actually made it through? Again, who knows. Our mascot was the Bearcat. Colors were blue & yellow.
4. Tell us about some of your favorite memories of high school. Or what stands out the most? Any teachers? Specific classes?
I have a lot of good memories from high school. I can't think of one memory that stands out a ton. I had fun with everything we did. Senior year was a little stressful but I made it through. I loved anything dance or golf related. I miss golf a lot, going from doing it every day to every once in awhile sucks. I used to be pretty damn good. Yep, I guess I am a nerd. haha.
5. Tell us a piece of advice you would pass on to your children or any child entering high school?
Be yourself. High school can be a super tough place to fit in or feel like you belong but honestly...I always stayed true to myself. I wasn't going to do something just because people thought it was cool. I wasn't a big party animal, I didn't do drugs, have sex, smoke, drink, nothing. I was boring in high school and I am glad. Because those "cool kids" that did do it....well...they still are and their lives suck. Don't worry about peaking in high school. Being a cool adult is much better. Trust me.